Zhang Juhua,a 45-year-old woman from Guangyuan's Chaotian district,Southwest China's Sichuan province,has spent 37 years learning and developing Maliu embroidery.She has been recognized as an inheritor of this form of national intangible cultural heritage.
Maliu embroidery is the generic term for folk stitchwork for several townships in Guangyuan.Artists draw on black,white,red,and blue cotton floss and self-woven cloth to make their works.
It is a kind of necessity for the people here.Women in the townships usually embroider sachets before Chinese New Year to pray for a good harvest and wish for an auspicious new year.Before getting married,they often make embroidery works as tokens of love and for dowries.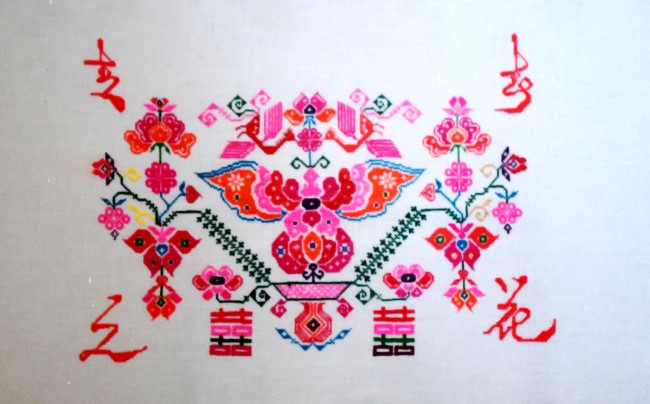 A Maliu embroidery art piece made by the national-level inheritor Zhang Juhua[Photo provided to chinadaily.com.cn]
Zhang's great-grandmother and grandmother were famous embroidery artists in the Qing Dynasty(1644-1911)and the Republic of China(1912-49).Her mother,Yan Jinxiu,was at the very top of the profession.Yan's work"Marriage of a Mouse"is in the collection of the China Folk Art Museum.
Zhang said her mother always had needlework in her hands,ranging from quilt covers to small handkerchiefs.The patterns of flowers,birds,insects and fish are all lifelike,which arose Zhang's interest in this type of art.
At the age of 8,Zhang picked up her needles for the first time,but it was not easy to get started."My fingers were too thin to wear a thimble,so every time I did embroidery,my fingers would get pricked and bleed,"she said.
Zhang did not give up.She quickly mastered the stitching skills of Maliu embroidery like many other girls in her area.
Through the years,Maliu embroidery has been passed down from generation to generation orally and through practice.However,many young people are now going to bigger cities to work,and this skill has been adopted by fewer people.At present,there are only about 500 people who can do it.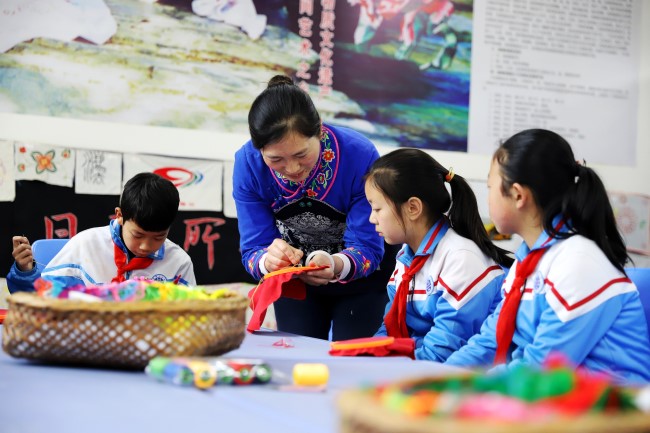 Zhang Juhua(C)teaches baisic stiching skills to the local pupils.[Photo provided to chinadaily.com.cn]
Out of responsibility and love,Zhang chose to stay in her hometown to carry on the time-honored technique.
She goes to Maliu Township Central Elementary School every week to teach children basic techniques.In addition,she serves as a teacher for the public with the local government's support.
Zhang often participates in international cultural activities and demonstrates Maliu embroidery skills to domestic and foreign visitors,helping more people learn about it.
Maliu embroidery was added to China's national intangible cultural heritage list in 2008.In 2012,it became one of China's national geographical indication protected products.Four years ago,it was listed in the national traditional handicraft revitalization catalog.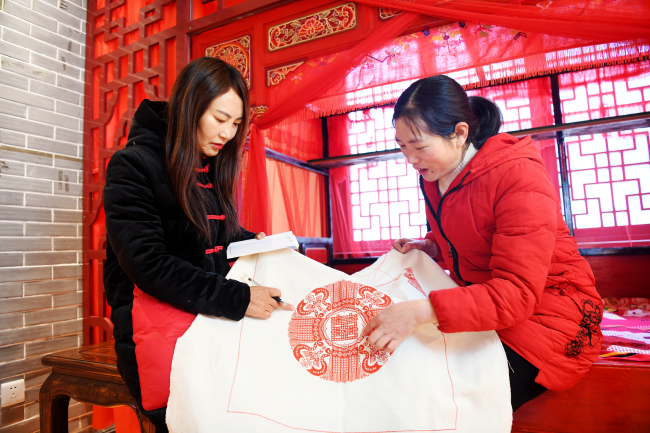 Zhang Juhua(R),introduces an embroidery pattern to a visitor.[Photo provided to chinadaily.com.cn]
Zhang has continued to develop embroidery that is more in line with modern aesthetics,making works with a more three-dimensional look.
To Zhang's delight,her oldest daughter is also an expert in embroidery,and her younger daughter likes painting.She believes that with the joint efforts of generations,folk embroidery art can be well-preserved and continue to blossom.