Sichuan Changning Natural Gas Development (hereafter referred to as 'Changning Company'), which is backed by Sichuan Energy Investment group, records a daily gas production of 20.26 million cubic meters, ranking first in China's shale gas field production.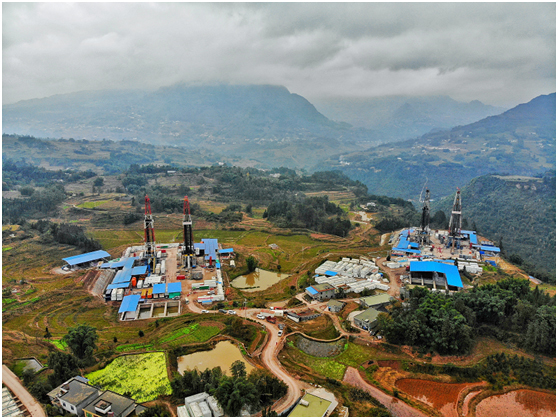 Changning block, Changning Weiyuan National Shale Gas Demonstration Area.
As the pioneer of shale gas exploration and development in China, Changning Company is focused on scale development of shale gas, improving its quality and efficiency by continuously strengthening technical research, fine production organization and strictly abiding by safety and environmental protection guidelines. From January to September, Changning Company tested 34 high-yield wells with a daily output of more than 300,000 cubic meters, with an average daily production of 382,800 cubic meters, creating two '3 million cubic meters' shale gas platforms.
Sichuan Energy Investment focuses on six businesses of 'natural gas transmission and distribution, urban gas operation, LNG/LPG industry chain, smart energy, hydrogen energy and gas storage peak adjustment', serving more than 50 counties (cities, districts), 450,000 residents and industrial and commercial gas users in Sichuan Province, with annual natural gas transportation and distribution exceeding 3 billion cubic meters; participating in shale gas exploration and development in southern Sichuan Province and putting into operation the first commercial operation hydrogenation station in Western China and striving to build the whole industrial chain of natural gas and shale gas in the upstream, middle and lower reaches. ( By Edina Liang)