The folk craftsmanship of handmade silk carpets in Cangxi county,Guangyuan,Southwest China's Sichuan province,has been listed among Sichuan's provincial intangible cultural heritage.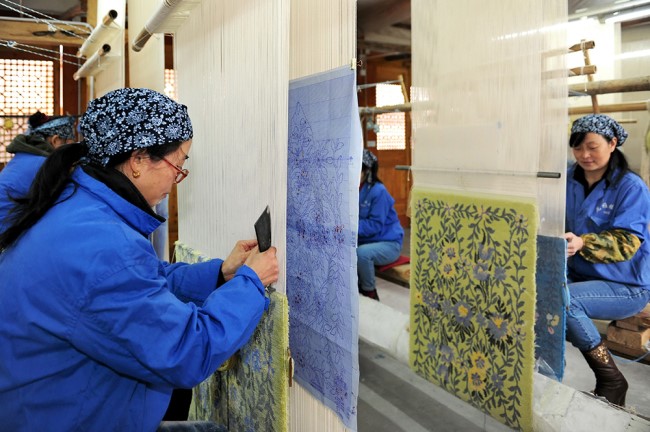 Craftswomen weave silk carpets according to drawing sheets.[Photo by Liu Hui]
Cangxi residents draw on pure Bombyx mori silk and extract dyestuff from different parts of plants and Chinese herbal medicines to make carpets that are pollution-free and of excellent quality.
Coupled with elegant patterns,the carpets are both practical and of high collector's value,and have entered high-end hotels and the homes of rich families around the world.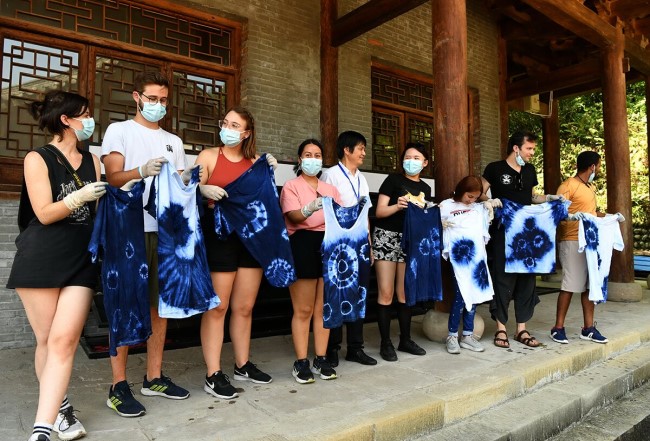 Foreign visitors learn about dying techniques in Cangxi county,Guangyuan,Sputhwest China's Sichuan province.[Photo by Liu Hui]
Demand is now threatening to outstrip supply.The carpet needs to go through over 100 complicated processes,including making thread and winding thread,and dyeing and leveling fabric.
Within a year,a skilled craftsman who works eight hours a day can only weave four to six square meters of carpet.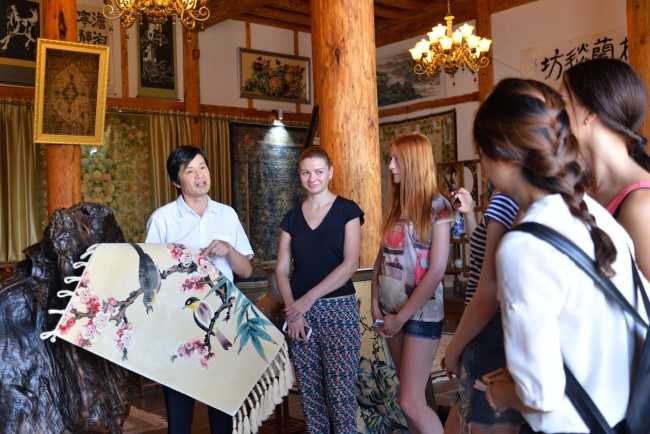 An instructor(1st,L)presents a piece of silk carpet to tourists.[Photo by Liu Hui]
Liu Hua is an inheritor of this intangible cultural heritage.His family has been making the carpets for generations.They have inherited the original weaving methods.Liu's works were selected as exhibition items at 2010 Sichuan Week at the World Expo.
Under the guidance of Liu,Cangxi has attracted more than 200 technical personnel engaged in the production,research and development of handmade silk carpets.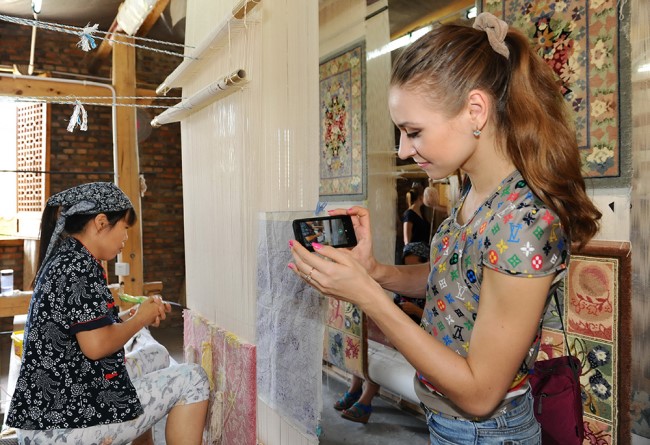 An expat(R)takes a video of part of the carpet making processes.[Photo by Liu Hui]
The county signed contracts with Chengdu University of Technology,Sichuan University and other colleges to get support in cultivating professionals and optimizing techniques.
In addition,an industrial base was established that involves functions of design,production and sales,display,preservation and tourism reception all in one.
Cangxi rugs have obtained organic certification in Japan.In recent years,they have been exported to Japan,the US and many other countries.