The eight-day National Day holiday and the Mid Autumn Festival has ended on a high note with the country witnessing a domestic travel boom. A total of 649 of the 726 A-level scenic spots in Sichuan Province were reopened to public with a footfall of 89.39%. A total of 23.3113 million tourists visited the region, generating revenue of 313 million yuan from ticket sales.

During the golden week, Jinli and other scenic spots in Chengdu is full of visitors. Photo by Li Dong, Chengdu Daily
Nicholas Lardy, a senior researcher at the Peterson Institute for International Economics, a US think-tank, said that consumption in China has begun to recover. In August, the growth rate of total retail sales of consumer goods turned from negative to positive for the first time in the year. Affected by factors such as 'retaliatory consumption' during the golden week, the retail industry is expected to be on an expedited path to recovery. During the eight-day holiday, the total retail sales of consumer goods in Sichuan reached about 52.08 billion yuan, an average daily increase of about 2% over the same period last year and 18% higher than that in August this year.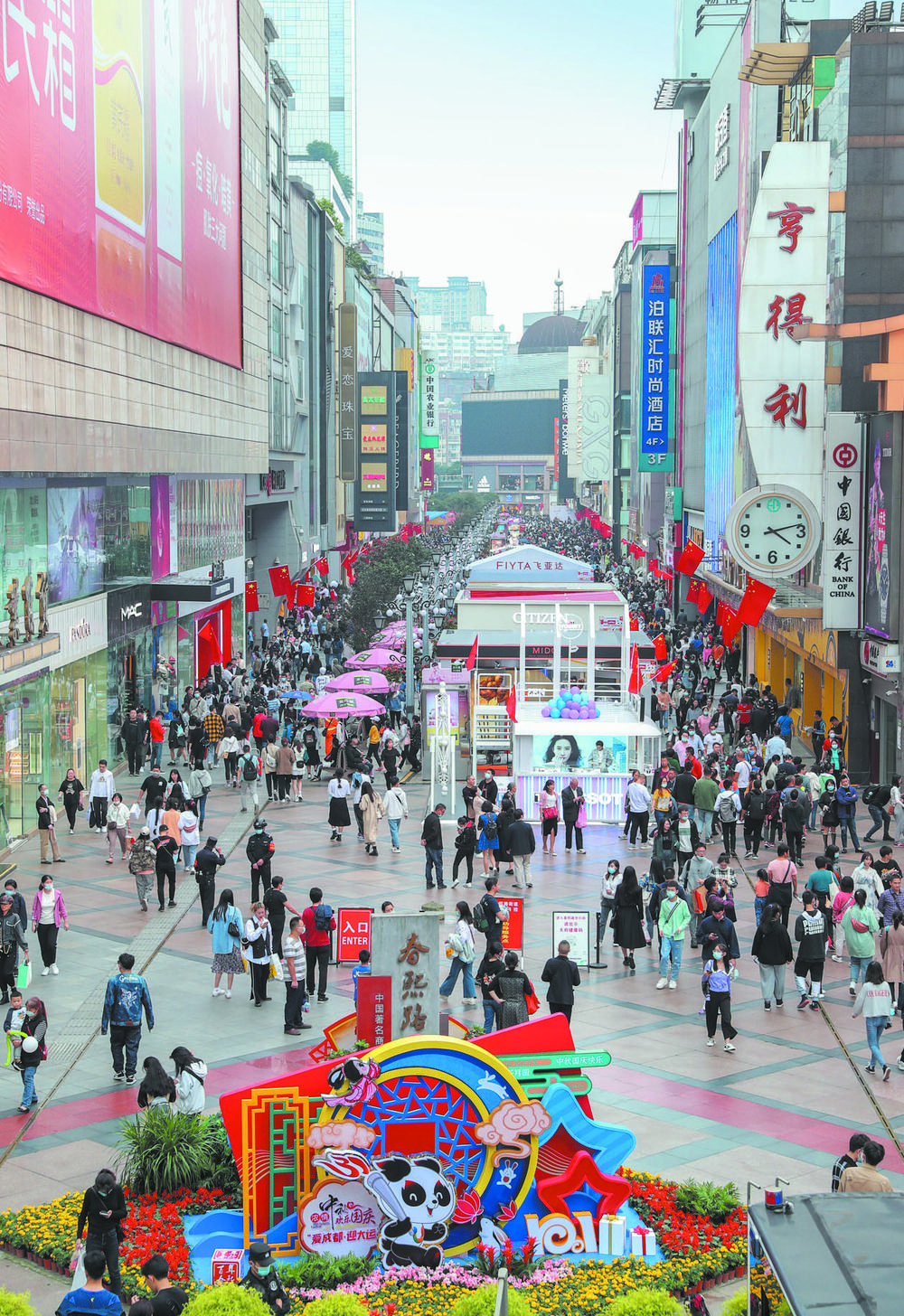 During the holiday, Chunxi Road in Chengdu is full of eager shoppers (Photo by Chengdu Daily)
According to data from key media and platforms, Sichuan has risen up the popularity charts as a tourist destination, with Chengdu ranking among the most popular destinations in the country.
Sichuan ranks fifth in the country in terms of the number of reservations made. The Chengdu Research Base of Giant Panda Breeding ranks among top three in terms of the number of reservations.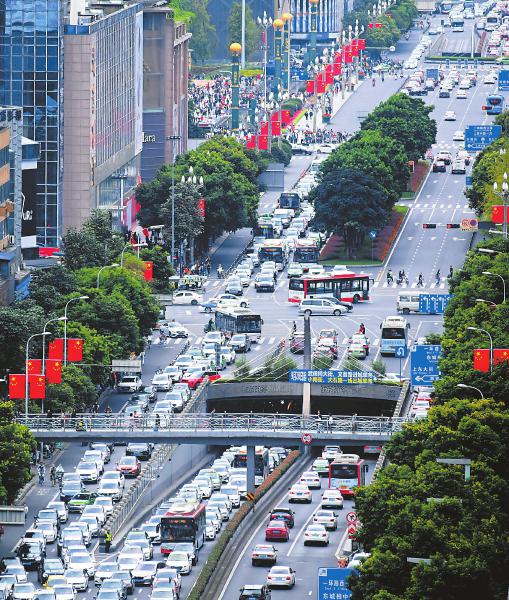 On October 4, Chengdu Shudu Avenue was full of cars.( Photo by Hua Xiaofeng, Sichuan Daily)
Sichuan is host to a number of cultural activities, art performances, folk cultural activities and tourism festival activities, such as Chengdu National Day and Mid Autumn Festival happy tour and the first Luoshui Fenghua Traditional Costume Festival, Zigong 'Charming Salt City Comfortable Light City' activity and Jianmenguan scenic spot cliff lighting performance show 'Jianmen Long Song'.
According to estimates by the China Tourism Academy (Data Center of the Ministry of Culture and Tourism), during the holiday, a total of 637 million domestic tourists generated a revenue of 466.56 billion yuan, which recovered by 79.0% and 69.9% respectively on a year-on-year basis.
The booming tourism market in China has caught the eye of the world. Foreign media, experts and netizens are admiring the lively travel scene in the country, which is a testimony to China's prowess in fighting the pandemic and returning to normalcy and economic recovery.
A recent article in the 'New York Times' in the US said that this golden week, Chinese 'are doing what many people in other countries dream of' and 'this is a clear signal of China's recovery from the epidemic'.
Foreign media is also focused on Wuhan, applauding its resilience. 'Wuhan Sports Center reopened on the first day, the number of reservations reached the upper limit, the shopping street was bustling with visitors, the landmark building Yellow Crane Tower staged a gorgeous light show at night,' said 'The Times' in the UK on its website.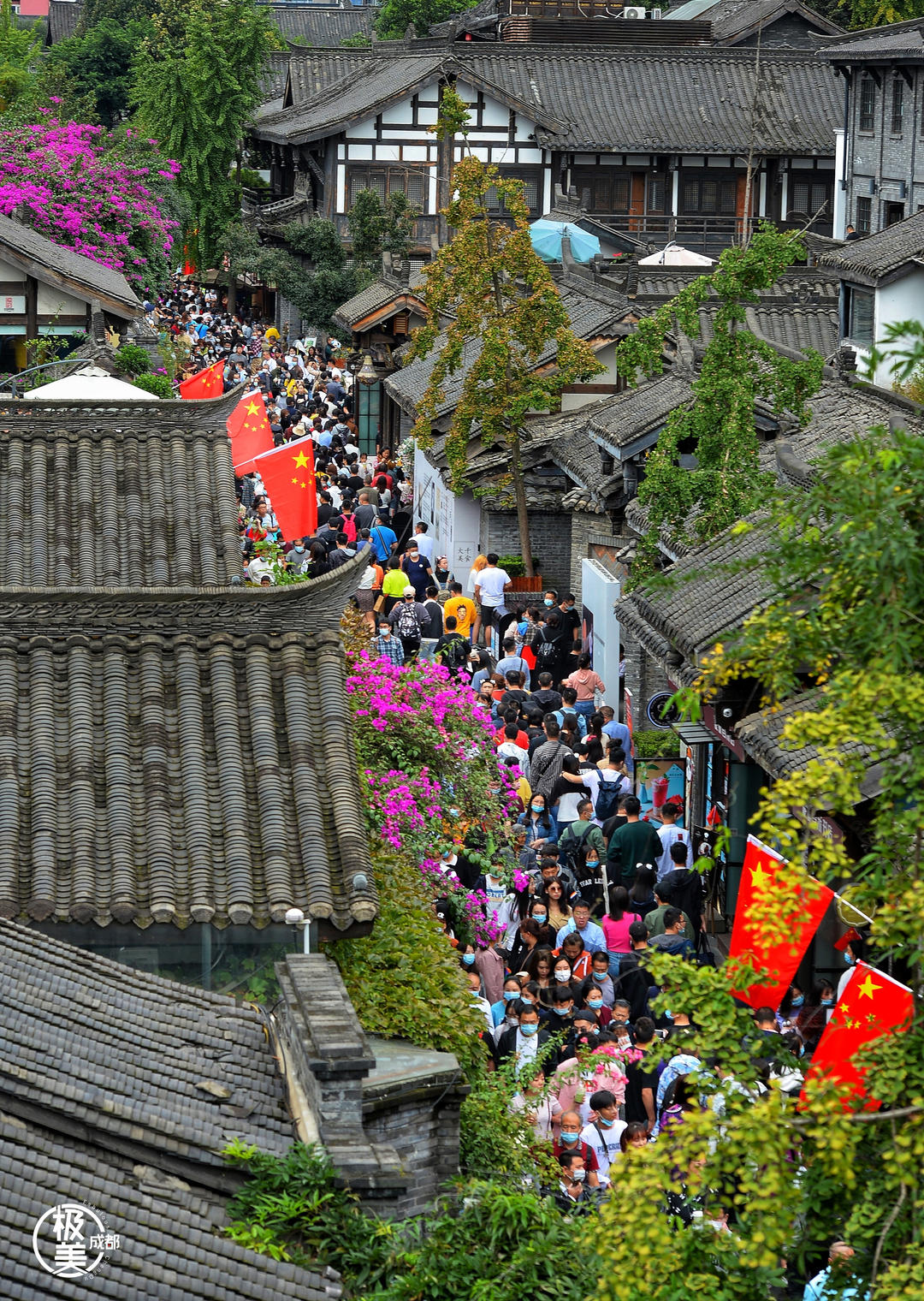 Hot spots in Chengdu during the National Day holiday (Photo by Red Star News)
Michael Pettis, a resident of Beijing, said that he lived near Houhai in Beijing which was crowded with tourists recently. When he went to Sanlitun, he found tourists there as well.
Netizen Carlos Martinez said that when it comes to defeating the virus and returning to normal, China is light years ahead of us in terms of the government's governance ability and reaction time to people's demands.(By Edina Liang)