In order to promote the coordinated development of vocational ability construction in Chengdu- Chongqing Economic Circle and promote the high-quality development of industry through building a high-quality labor force, the first Sichuan Chongqing Vocational Capacity Building and Development Forum and the Founding Ceremony of Sichuan Vocational Skills Competition Alliance were held in Pujiang County, Chengdu, on November 27. At the meeting, "Sichuan Vocational Skills Competition Alliance" was officially announced.
The meeting also witnessed the opening ceremony of "Sichuan Vocational Skills Competition Research Center" and "Sichuan Vocational Skills Competition Base". Sichuan Vocational Skill Appraisal and Guidance Center also signed a strategic cooperation framework agreement (MOU) with 13 organizations, including China (Tianjin) Research Center of World Skills Competition, Chongqing Vocational Skill Appraisal Guidance Center, Chengdu Economic and Technological Development Zone, etc. In the future, various departments will work together on promoting the construction of vocational skill system, promoting the identification of vocational skill level, coordinating the development of vocational skill competition, and strengthening the training of skilled talents.
Experts, scholars and government officials were invited to hold a round table forum on the topic of the construction and development of skilled personnel team. 11 guests shared their opinions on vocational ability building, vocational skill evaluation and training.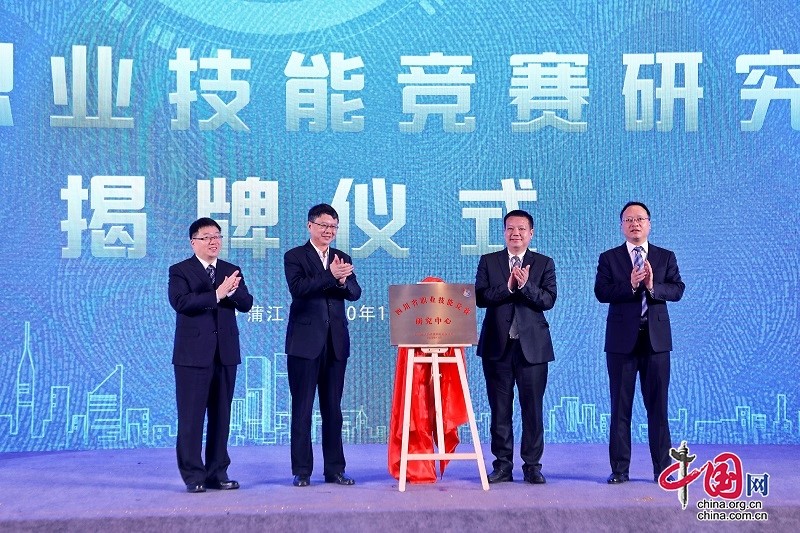 Hu bin, Director of the Department of Human Resources and Social Security of Sichuan Province, expressed the hope that with the close cooperation of departments at all levels and the support of units in various fields, the vocational skills competition alliance serves as an ideal platform expanding and deepening labor skill development , which is expected to boost the high-quality development in the Sichuan-Chongqing region.
The forum saw the presence of 400 professionals in different fields from Sichuan and Chongqing, such as human resource officials, experts,manager of leading enterprises and professors of more than 50 colleges.
Cheng-Yu region, with Chongqing and Chengdu as the core twin cities, has a population of more than 100 million and a total economic volume of nearly 7 trillion yuan. With fast economic growth in recent years, the region is becoming an economic growth pole in west China. (By Edina Liang)