On August 25, the runner of the world's largest Kaplan turbine which is under construction was successfully hoisted in place, almost like fitting the Jinsha hydro-electric station with a 'heart'.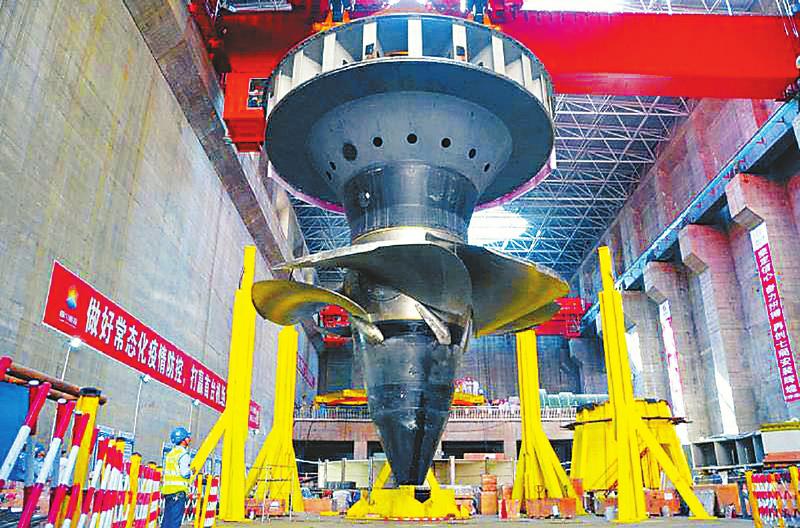 The runner of Kaplan turbine of Jinsha hydro-electric station is hoisted.( Photo by song Junkang)
The Jinsha Hydropower Station under construction by the Sichuan Energy Industry Investment Group is the ninth level of the 10 level hydropower complex project planning in the middle reaches of Jinsha River, and it is also a typical low head and large flow hydro-electric station. Jinsha hydro-electric station is designed and installed with four 140 MW Kaplan turbine generator units with a total installed capacity of 560 MW and an average annual power generation of 2.177 billion KWH. At the core of hydro generation, the runner is referred to as the "heart" of the unit. The runner of Jinsha hydro-electric station has a diameter of 10,650mm and a height of 7,804mm. It is the largest Kaplan runner under construction in the world. The lifting weight is about 800t, making it a herculean task.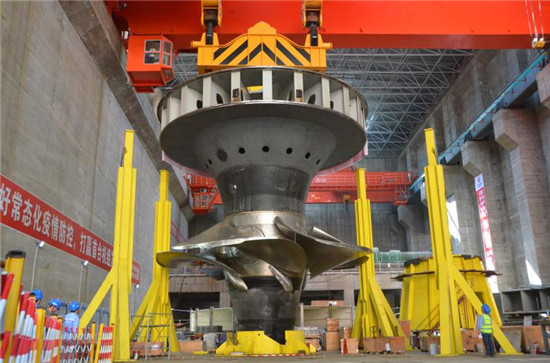 Hoisting of Kaplan turbine runner in Jinsha hydro-electric station (photo by Sichuan Energy Industry Investment Group)
'The runner of this turbine is composed of runner body, turbine shaft and inner head cover, including spreader and other accessories, with a lifting weight of about 800 tons,' said Zhou Fangbo, chief engineer of Jinsha plant dam area of No.7 SINOHYDRO Bureau 7 CO,LTD.
Jinsha hydro-electric station is primarily meant for power generation and includes comprehensive benefits such as water supply, improvement of urban water landscape and water intake conditions. It will complete the third stage dam flood season and the target of the first unit power generation this year and will be put into operation and completed by the end of next year.
'At present, the civil engineering is in its last stage and the final sprint is being launched for the installation and commissioning of the first unit to ensure that power generation conditions are met by the end of November,' said Chen Renfeng, chief engineer of Sichuan Energy Panzhihua Hydropower Development CO., LTD. (By Edina Liang)