Its glorious mountains and flowing rivers are evidence of its prosperity while time has stood witness to this abundance. On July 18, Qingbaijiang District of Chengdu welcomed its 60th anniversary.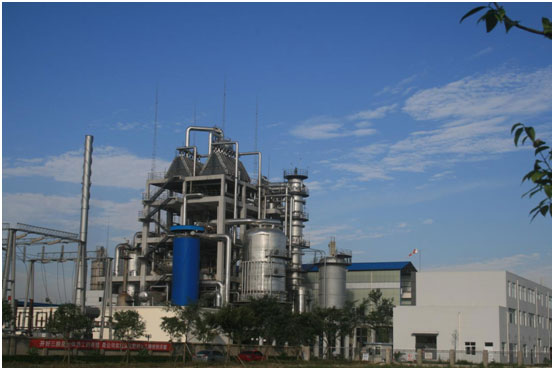 On July 18, 1960, Qingbaijiang district of Chengdu City, an industrial zone specially set up for Sichuan Chemical Company Limited and Chengdu Iron and Steel Factory, was officially established. On September 1, 1956, the first set of synthetic ammonia main project of Sichuan Chemical Company broke ground, and it took less than 21 months to put into operation, thus rewriting the history of no nitrogen fertilizer in Sichuan. On August 1, 1958, the construction of Chengdu Iron and Steel Factory broke ground, creating a remarkable achievement of "45 days of iron production, 108 days of steel production and 181 days of steel production", ending the history of Chengdu plain being abundant in grain but lacking in steel. Since then, "Qingbaijiang" has shouldered the national mission of building the first industrial zone in Southwest China with the two big arms of "chemical industry" and "iron and steel". In 1990, Qingbaijiang became the first district (city) and county in Chengdu with a total financial revenue of more than 100 million Yuan. In 1992, Sichuan Chemical Company was recognized as a "super large enterprise" by the state. In 2008, the output of seamless pipe, steel pipe, rod and wire of Pangang Industry exceeded 1 million tons, becoming the first industrial enterprise with sales revenue of more than 10 billion yuan in Chengdu.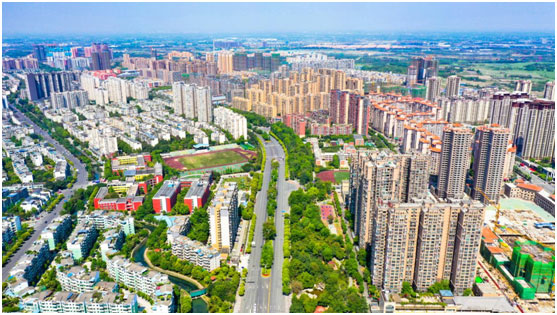 In the new historical period, Qingbaijiang people, who are "bold in thinking, good at planning, courageous in action and striving to be at the top", seized a historical opportunity, actively integrating into the national, provincial and municipal development strategies, and once again shouldering the national mission of building "Chengdu-Europe hub".
Through opening its borders to trade, Qingbaijiang's export-oriented economy has displayed success and an increasingly growing urban toughness and numerous development prospects. This has been especially evident with the establishment of "Four Zones One Hub, such as the Free Trade Zone and Comprehensive Bonded Zone, National Economic Development Zone, "Belt and Road" Grand Zone, Land Port Type National Logistics Hub. Qingbaijiang has successfully transformed from an old industrial base into a "Tianfu Gateway Opening Hub" and "Land Sea Intermodal Transport Hub Internationalizing Qingbaijiang", becoming a well-known Pan European and Pan Asian open port city.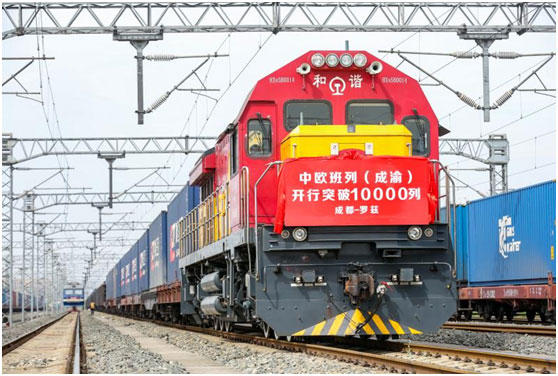 It is worth mentioning that in April 2017, Qingbaijiang area of Sichuan Pilot Free Trade Zone was established, and Qingbaijiang was once again entrusted with the important mission of being the national "experimental field". As the only free trade zone established by relying on railway port in China, Qingbaijiang area of Sichuan Pilot Free Trade Zone has lived up to expectations in the past three years. More than 80 reforms have been at the forefront of countrywide reforms and reform measures such as centralized transportation mode, supervision mode of parallel imported automobile sea rail combined transport, and road local cooperation mechanism are leading in China.
Necessary reforms can boost quality and accelerate development. Data can vouch for the great changes and strong development momentum of Qingbaijiang in the past 60 years: GDP increased by nearly 2,800 times from 19 million Yuan at the beginning to 52.6 billion Yuan in 2019; the total investment in fixed assets increased by more than 1,200 times from 29 million Yuan at the beginning to 36.18 billion Yuan in 2019; the fiscal revenue increased ‪from 3.9‬ million Yuan at the beginning to 8.145 billion Yuan in 2019, an increase of more than 2,000 times. The three industrial structure is gradually optimized from 68.1:16.5:15.4 at the beginning to 3.6:30.7:65.7 in 2019. The China Europe freight train, which started in Qingbaijiang, has become the largest number of China Europe trains in China, maintaining the "double first" of international and China Europe trains for four consecutive years. In the first quarter of 2020, relying on Chengdu International Railway Port, Qingbaijiang will drive Sichuan's total foreign trade import and export to exceed 15 billion Yuan, with a year-on-year growth of 70%, making an important contribution to the development of Sichuan's export-oriented economy.
Standing at the new starting point of the 60th anniversary of the establishment of the district, focusing on the construction of "Tianfu gateway, open hub", "land sea intermodal transport hub and internationalized Qingbaijiang River", Qingbaijiang will continue to seize opportunities for development of Chengdu-Chongqing economic circle region and opportunities for the development of Chengdu, Deyang, Meishan and Ziyang Urban integration. Qingbaijiang is speeding up the construction of "four districts and one hub" and striving to become the most radiation driven role in the northern part of Chengdu. This will promote development of Chengdu into an international gateway hub city and a park city demonstration area practicing the new development concept.(By Edina Liang)