On April 28, the steel pipe installation and capping of No. 6 main pier of Jinyang River Grand Bridge in Jinyang County, Liangshan Prefecture, Sichuan Province, China, was conducted with setting up of No. 6 main pier measuring 196m high, which is the "world's highest" for this type of pier. The bridge is scheduled to be completed in December this year.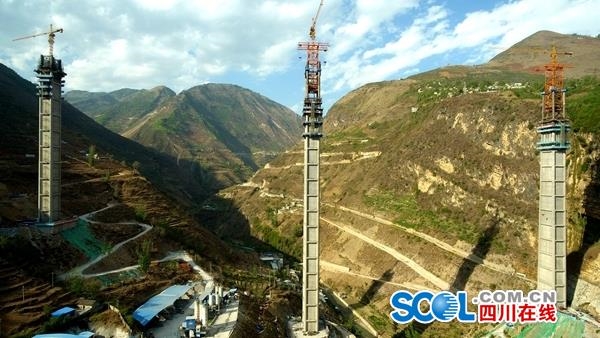 World's highest bridge pier (Photo/Sichuan Online)
Jinyang River Grand Bridge is designed to cover the deep river valley of Jinyang County, with a total length of 757.3m, with nine piers, of which No.5, No.6 and No.7 main piers are concrete-filled steel tubular lattice hollow piers, and key works of the project, with a single span of 200m. Among them, the No.6 main pier is 196 meters high, which is equivalent to the height of a 71-storey building. This exceeds the No.10 pier measuring 182.5 meters of Labajin Bridge of Yaxi Expressway and the No.11 pier measuring 195 meters of Hezhang Bridge of Guizhou Province. The pier is the highest in the world in the category of rigid frame pier.
An air view of the No.6 pier (Photo/Sichuan Online)
According to the person in charge of Sichuan Chuanjiao Cross Road and Bridge Co., Ltd of Sichuan Railway Investment group Co., Ltd, the main pier of the bridge is in the form of concrete-filled steel tubular lattice hollow pier with good seismic performance and a strong economy. At present, this kind of bridge has been designed and constructed only in Labajin Grand Bridge of Yaxi Expressway in China, without much construction experience, and the technical team has made great efforts to introduce innovations.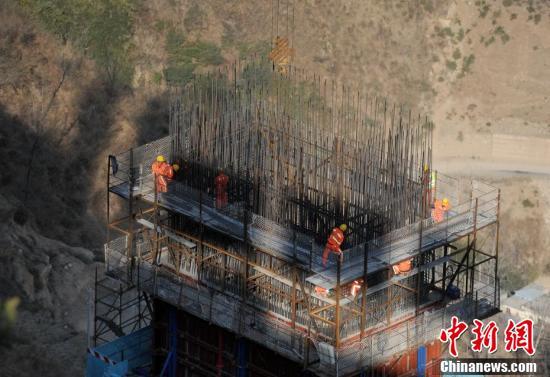 Jinyang River Grand Bridge Under Construction( Photo/Chinanews.com)
The construction process is very difficult. The lifting weight of a single steel pipe of the main bridge lattice column is huge (the maximum weight of a single steel pipe is 19.3 tons), and the lifting height is very high (the maximum lifting height is 208.3 meters). The existing equipment construction cannot meet the requirements of the construction timeline. The technical team has, thus, developed a self climbing multi-functional lifting system with independent intellectual property rights for auxiliary construction. Compared with the traditional method, it can speed up the installation of steel pipes and improve the construction quality, which saves construction cost and capital investment.(By Edina Liang)