The latest figures reported by each government's health authority as of March 3, 2020.
In South Korea, 5,186 confirmed cases of coronavirus have been found while the tally in Italy has soared to 2,036 as on February 26. Many countries have declared a state of emergency even as the rising cases throw the world into chaos.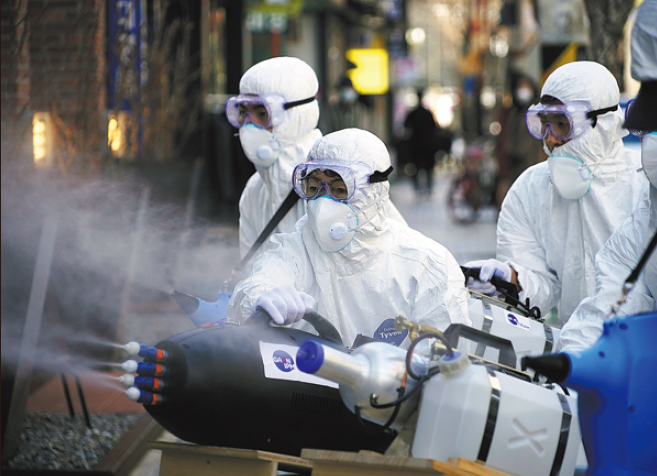 Workers spray disinfectant to sanitize a shopping district in Seoul, South Korea, on Thursday.(Photo\Agencies)
In China, where the epidemic is the most serious, many provinces and cities have entered the "post-pneumonia phase". Many provinces and cities have recorded zero cases for a week, the risk level has continuously reduced, and enterprises are gradually resuming work.
Sichuan, a large province located in Southwest China with a population of more than 90 million, now has 146 people isolated for treatment and has recorded no new cases for four consecutive days. At present, Sichuan Province is divided into low-risk areas, medium-risk areas and high-risk areas based on the county level and the prevention and control is carried out in different areas and levels.
Sichuan holds meeting on enhancing epidemic prevention and emergency management mechanism。(Photo/SCTV News)
As epidemic prevention continues, Sichuan Province held a meeting on March 2 to further promote and improve the system and mechanism of epidemic prevention and control and the national public health emergency management system. It was emphasized that a centralized, unified and efficient leadership and command system should be established, the responsibility system of emergency management should be strictly implemented, the early warning and prediction and the investigation of potential risks should be strengthened, the open and transparent information dissemination mechanism should be improved, and the systematization, integrity and coordination of emergency management should be effectively enhanced.
Since May 12 Wenchuan earthquake, Sichuan has established and improved upon a series of emergency response mechanisms. It has a relatively complete set of measures in dealing with sudden natural disasters, emergency relief and post-disaster reconstruction. The fight against the current epidemic is expected boost development of Sichuan's major epidemic prevention and control and upgrade its emergency management system and mechanism to a new level.(By Edina Liang)