At the press conference on August 11, foreign ministry spokesman Zhao Lijian praised China's anti epidemic medical expert group to Azerbaijan.He said that the work of the Chinese expert group has been warmly welcomed and highly affirmed by the Azerbaijani government and people. China and Azerbaijani have been helping each other as brothers. The medical aid and experience in the fight against the epidemic shows the profound friendship between the two sides.
On August 4, an anti-epidemic group of medical experts from Chengdu left Chinese shores for Azerbaijan. The expert group consists of 10 members, all from West China Hospital of Sichuan University, covering respiratory and critical care medicine, critical care medicine, infectious diseases, epidemiology, integration of traditional Chinese and western medicine, laboratory medicine and other professional fields.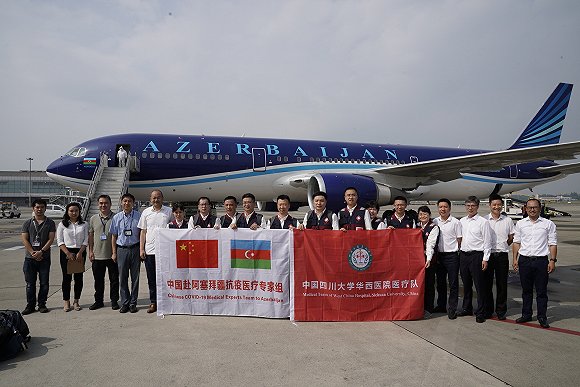 10 experts from West China Hospital of Sichuan University go to Azerbaijan to assist in epidemic prevention and control (Jiemian)
Wu Ying, member of the third group of medical aid team of West China Hospital of Sichuan University, had previously gone to Wuhan to attend to COVID-19 patients and conduct nursing work. "My heart is relatively calm in this trip. Because of my previous experience in Wuhan, my mind and my ability to deal with problems has improved. I might have been inexperienced before, but now I'm a senior. "
The expert group is equipped with medical treatment materials donated by the Chinese government, including most traditional Chinese medicines in the national plan, such as Lianhua Qingwen Decoction and Qingfei Paidu decoction and Yinqiao powder combined with the local environment and current climate.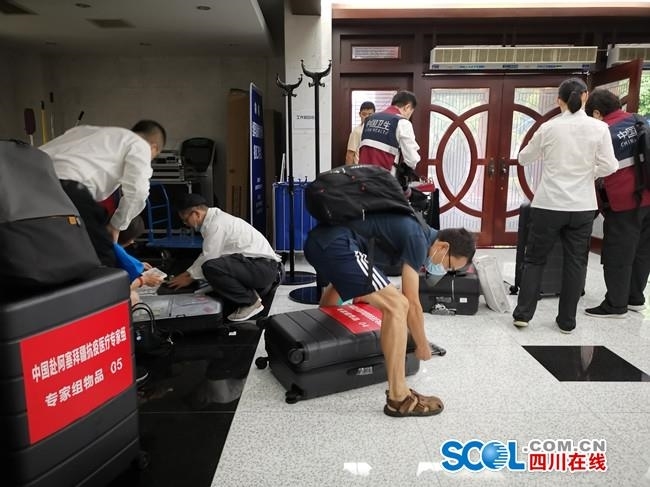 Medical team members pack their bags (Sichuan Online)
Azerbaijani ambassador to China, Akram, waved the group goodbye. "As an ambassador, I have been to the beautiful city of Chengdu for the fourth time, but today's visit is very meaningful. It is to see off the friendly people from China and Sichuan," he said. "During the epidemic, we saw the friendship between the two countries strengthen once again. You are all heroes. The government and people of Azerbaijan will never forget it. "
At present, there are about 12,000 confirmed patients and the death toll is at 470 in Azerbaijan. More than 5,000 people are currently in hospitals. However, as the local detection capacity needs to be further improved, the actual situation would become clear to the experts after arrival.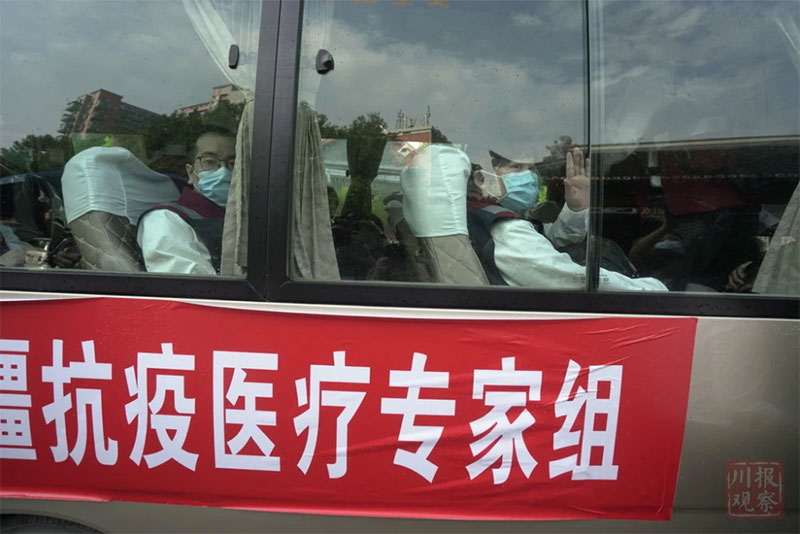 Ten anti-epidemic experts from Sichuan set out for Azerbaijan (Sichuan Daily)
The goal of the trip to Azerbaijan is to investigate and analyze the overall situation of local epidemic prevention and control and put forward relevant suggestions. "The other objective is to boost local medical treatment, intensive care and medical examination, especially to share the anti-epidemic experience from China to help Azerbaijan cope better with the epidemic situation," said Cheng Yongzhong, deputy head of West China Clinical Medical College of Sichuan University/West China Hospital.
As on May 31, China has sent 29 medical expert teams to 27 countries and has provided or is in the process of providing anti-epidemic assistance to 150 countries and four international organizations. China has guided foreign-aid medical teams stationed in 56 countries for a long time, assisted in epidemic prevention and control, provided technical advice and health education to the residents and overseas Chinese and held more than 400 online and offline training sessions.(By Edina Liang)