The real-time monitoring and early warning system of geological disasters developed by the State Key Laboratory of Geological Disaster Prevention and Geological Environment Protection of Chengdu University of Technology has taken the lead in the field of landslide early warning.
"Landslide early warning is recognized as a global problem. No individual or team in the world dares to say that they can accurately warn landslide in advance, but our laboratory has been able to do so. It can be said that we are the first in the world to dare to warn of landslides in advance," Laboratory researcher Xu Qiang said.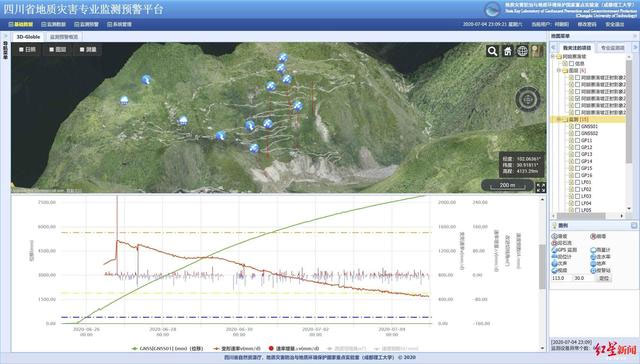 Sichuan Geological Disaster Professional Detection and Early Warning Platform (Red Star News)
Landslide early warning is mainly through the real-time transmission of rainfall, deformation, groundwater level and other data obtained from monitoring points in the field to the system. The system carries out real-time dynamic analysis and calculation of monitoring data according to the established theoretical early-warning model and criteria. When a certain early-warning level (yellow, blue, red) is met, the early-warning message will be automatically sent through SMS, wechat, telephone, etc. The information will be sent to the relevant personnel to facilitate the region to take corresponding emergency measures.
At present, the system has been used in the monitoring and early warning of thousands of disaster points in Guizhou, Gansu, Qinghai, Shanxi, Anhui and other provinces, and has successfully warned of landslides in advance. On June 23, 2020, a continuous rainstorm occurred in Qinglong County, Guizhou Province. The real-time monitoring and early warning system of geological disasters in Guizhou Province issued an orange warning about an hour in advance. The local government took timely evacuation measures according to the alert. No casualties and property losses were caused by the landslide.
According to the data compiled by Sichuan Provincial Local Records Office, landslides are widely distributed in Sichuan Province, covering nearly 100 counties in 21 cities (prefectures) of Sichuan Province due to the complex terrain, changeable lithologic structure, active neotectonic movement and frequent seismic activities. Landslides with a volume of more than 10 million cubic meters account for about 50% of the same scale in China.
On April 30 this year, Sichuan completed the first phase deployment of the real-time monitoring and early warning system for geological disasters and comprehensively monitored 5,497 specialized monitoring points in Ganzi, ABA, Liangshan and other high-risk areas of geological disasters. In future, the coverage of monitoring points will gradually expand to the entire Sichuan Province and this work is expected to be completed by the end of 2021.(By Edina Liang)