On June 20 and 21, a large-scale job fair was held in the New International Convention and Exhibition Center, Chengdu. More than 500 enterprises provided over 12,000 vacancies for job seekers, with an average monthly salary of 6,773 yuan.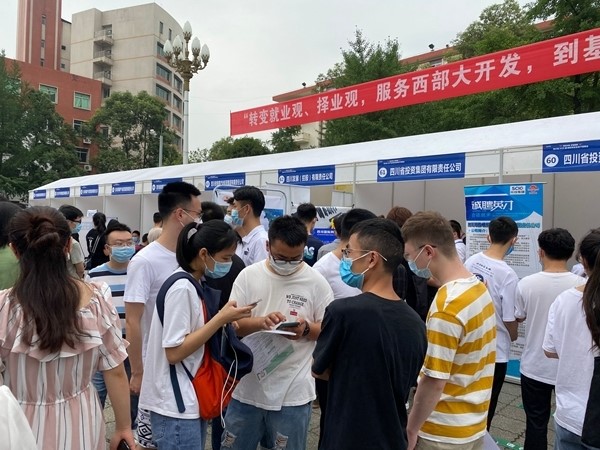 Sichuan 2020 college graduate recruitment fair (Sichuan online)
Facing unemployment pressure due to the pandemic, Sichuan government has held a series of online recruitment activities such as "100 Days of 10 Million Online Recruitment Special Action", "Spring Recruitment of Network for University Graduates", and "Women's Employment and Entrepreneurship Service Network Special Recruitment Meeting". The purpose is to ease the process of recruitment and job search. From January to April, Sichuan government encouraged more than 20 thousand enterprises to carry out 943 online recruitment activities and release information of 1.5 million jobs.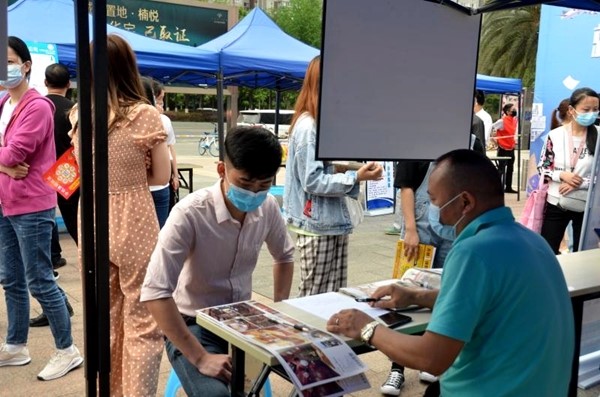 Chengdu Shuangliu District recruitment fair (Sichuan online)
In order to fundamentally guarantee employment, China's human resources department also issued supporting policies in response to the development difficulties of enterprises, so as to ensure the orderly operation of the employing enterprises. According to the latest data released by the National Bureau of Statistics, the unemployment rate in China's urban survey was 5.9% in May, down 0.1 percentage point from April; from January to May, 4.6 million new jobs were created in China's urban areas, a decrease of 1.37 million compared with the same period last year.
This year, the outbreak of COVID-19 has affected the global unemployment rate. Australia's unemployment rate reached 7.1% in May, according to data released by the Australian Bureau of statistics on April 18. From April to May, about 227 thousand people lost their jobs due to the pandemic. The U.S. Department of Labor reported that in the week ended June 13, the number of people applying for unemployment benefits for the first time in the United States was 1.5 million, and the number of people continuously receiving unemployment benefits for the week ended June 6 was 20.5 million.(By Edina Liang)