At 10:50 a.m. Beijing time on November 22, 2020, Liangbang, the giant panda living in Japan, successfully gave birth to a male giant panda cub. The cub weighs 157 grams at birth and is being nurtured by his mother. Both mother and child are healthy.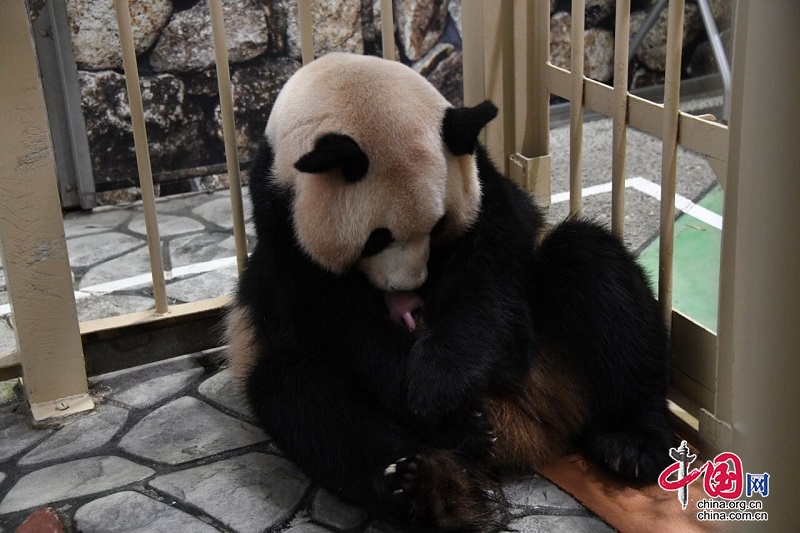 Giant panda "Liangbang" (Adventure World in Shirahama, Wakayama, Japan)
The giant panda "Liangbang" was born in Adventure World in Shirahama, Wakayama, Japan. Her mother was Meimei, a female giant panda, who went to Japan from Chengdu Research Base of Giant Panda Breeding (CRBGPB) in July 2000 as part of international cooperation between the two countries. In June this year, "Liangbang" successfully mated with Yongming, a male giant panda in Japan. In October, she displayed symptoms of pregnancy. In the early morning of November 22, her waters broke and she gave birth to a baby at 10:50 a.m. (Beijing time). This baby is the 17th giant panda cub born in Japan since the international cooperation between the CRBGPB and the Adventure World in Shirahama, Wakayama, Japan.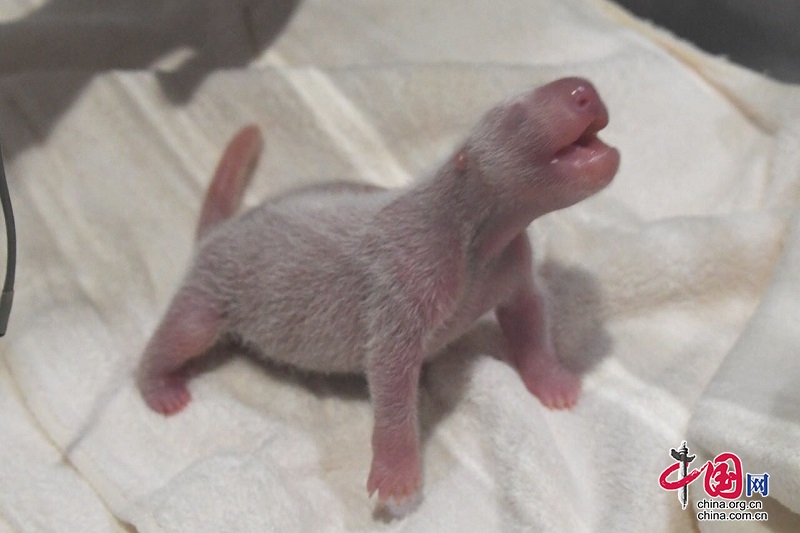 Giant panda cub (Adventure World in Shirahama, Wakayama, Japan)
Hit by the pandemic this year, experts from the CRBGPB were unable to go to Japan to carry out guidance work during mating, pregnancy and birth. So the expert team of the panda base has established a good network "cloud cooperation" working mechanism with the staff of the Adventure World in Shirahama, Wakayama, Japan. The expert team of CRBGPB uses the network to remotely guide Japanese staff to carry out various work. Through this "cloud cooperation", both sides successfully overcame various difficulties to ensure smooth production of Liangbang and usher in a new life.
It is hoped that this baby panda, born during the pandemic, will grow up healthy and happy in Japan. On November 23, 2020, Chinese Foreign Ministry spokesman Zhao Lijian said in response to a reporter's question: "I wish the baby panda a healthy growth and happy life in Japan and take this opportunity to thank all panda fans who care about this baby panda. Panda is China's national treasure, loved by people from all over the world, and it is also an ambassador of friendship. The land in two countries may be parted, but their hands are held. It is believed that the baby panda born during the pandemic will bring happiness to the Japanese people and will also be a witness to the friendship between China and Japan."
As the world's first long-term international cooperation project of giant panda, the international cooperation between China and Japan has created many world firsts and become a model of international cooperation of giant panda: establishing the largest captive giant panda population in foreign countries; the first case of giant panda estrus in autumn and the first case of giant panda mother feeding twins at the same time under artificial captivity. At present, 12 giant pandas born in Japan have returned to China.(By Edina Liang)