On November 9, representatives of German Railway, Belarusian Railway, Kazakhstan Railway and other domestic and foreign railway industries, and officials from Belgium, Singapore and Czech embassies and consulates in China, representatives from home and abroad, the Belt and Road Industrial Park Experts were among 600 people who gathered in Chengdu from more than 19 countries to jointly establish the International Supply Chain Alliance of China Railway Express.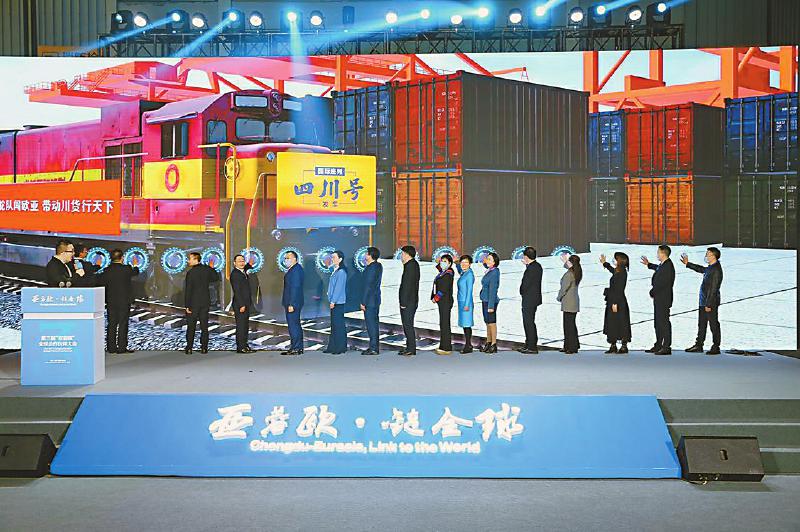 China Railway Express 'Sichuan' starts. (Photo by Chengdu International Railway Port)
'To ensure China Railway Express gradually moves towards market-oriented operation, we need to gather all kinds of resources. The establishment of The International Supply Chain Alliance of China Railway Express will enable a robust response to the concept of sharing the same area and development in Belt and Road Initiative and help build resources of all kinds by allowing collaboration from all parts of the world. China Railway Express of Chengdu is at the forefront of China in terms of traffic volume, service level, business innovation, multimodal transport and local industry driving and has a good industrial foundation. Therefore, it is necessary for it to play a pioneering role in increasing support for emerging industries and gathering international and domestic high-quality resources in Chengdu. Through the mode of bearing space, industrial park, hub distribution and the combination of trunk and branch, Chengdu China Railway Express has a good industrial foundation, it can bridge the gap between internal and external resources and set up the southwest demonstration center,' said Ji Shouwen, Professor of Beijing Jiaotong University and member of the expert group of the National Development and Reform Commission and the Multimodal Transport Demonstration Project of Ministry of Transport.
On the same day, representatives of Zigong, Luzhou, Ziyang, Deyang, Guangyuan, Neijiang, Nanchong, Dazhou, Ya'an, Liangshan, Meishan and Suining jointly launched the 'Sichuan' train in the new year to promote the new international trade pattern of 'buying from entire Sichuan and selling to the world'.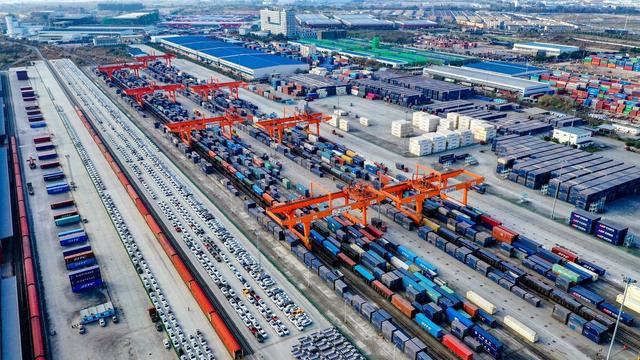 Chengdu International Railway Port
China Railway Express (Chengdu) drives Sichuan Province's import and export trade by more than 10 billion US dollars annually, serving more than 10,000 domestic and foreign enterprises and its integration with local industries is as high as 67%. Luzhou liquor, Suining lithium battery and advanced materials, Ziyang automobile industry accessories, Liangshan agricultural and sideline products, Zigong rubber products, etc. are all goods exported by the China Railway Express (Chengdu).
Statistics from China Railway show that as on November 5, China Railway Express has run 10,180 trains and transported 927,000 TEUs of containers this year, an increase of 54% over the same period of last year. The comprehensive heavy container rate of 98.3% can reach 21 countries and 92 cities which has become an important support for the safe and stable operation of the international industrial supply chain.(By Edina Liang)