On September 1, the first batch of commercial goods under the Chengdu cross-border B2B e-commerce export was officially cleared by local customs.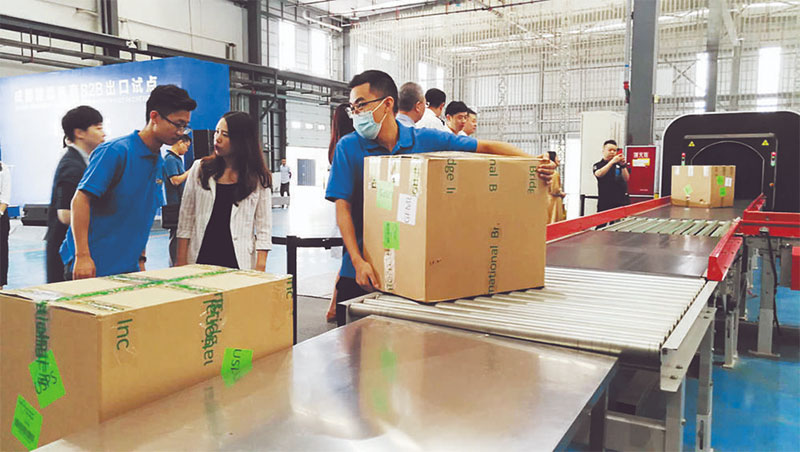 The goods will be exported globally after customs inspection.(Chengdu Daily)
According to the announcement issued by the General Administration of Customs on August 13, the pilot project of cross-border B2B e-commerce export supervision will be carried out in 12 customs districts directly under the jurisdiction of Chengdu from September 1.
At Chengdu Airport International Express Center, a number of goods and accessories such as clothing and mobile phone cases were declared to the customs and are being exported to Europe and the United States. In the past, small packages were individually packed with veneer sheets. Now larger batches can be exported in one go. This has brought down the export time to five working days.
'We have an estimate of the consumers of e-commerce. If it takes less than five working days from placing an order to receiving it, the repeat purchase rate is as high as 70%, which not only improves the turnover of companies, but also bypasses the problem of overdue returns due to the instability of international transportation,'said Sichuan Huitongtianxia Logistics general manager Li Ou.
According to the figures provided by Chengdu Customs, on September 1, Chengdu Customs released 1,400 pieces of'9710'and'9810'lists and customs declaration forms submitted by enterprises worth 2.08 million yuan. These included clothing, toys, accessories, daily necessities, etc., which are mainly exported to Britain, Poland, Thailand, Israel, the United States and other countries (regions).(By Edina Liang)