On August 27, the 'Sichuan Finland Investment Cooperation Docking Meeting' was held in Chengdu. A total of 23 Finnish enterprises including Nokia, Tieto and Lappset participated in the meeting with 32 well-known Sichuan enterprises and institutions that have expressed interest in cooperation with Finland,such as Sichuan Development Holding, Sichuan Energy Investment, Sichuan Changhong, Dongfang Electric Corporation and New Hope Group.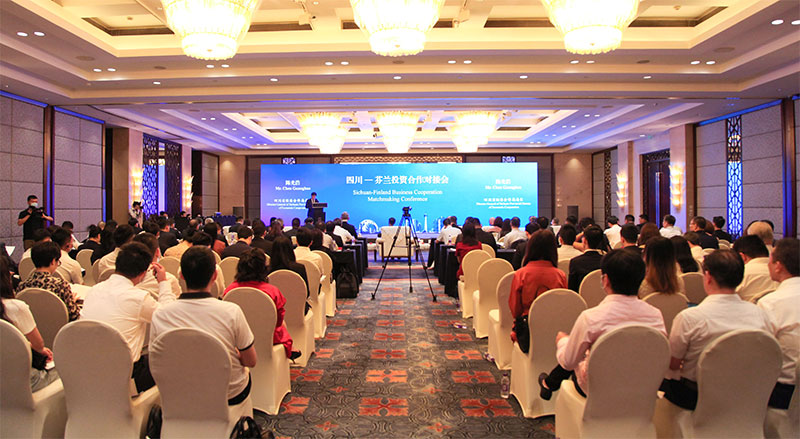 Docking meeting
This year marks the 70th anniversary of the establishment of diplomatic relations between China and Finland. The Finnish embassy in China selected Sichuan as the first stop of a series of commemorative activities held to mark the 70th anniversary of the establishment of diplomatic relations between the two countries. Sichuan is also part of the first leg of the Chinese trip of Finland's ambassador to China, Jarno Syrjälä — who has already been to Sichuan three times last year.
'Sichuan Province is an important economic and trade partner of Finland. There are many Finnish enterprises in Sichuan, such as Nokia and Tieto, which have their roots in Sichuan. We hope to enhance communication between the two sides through this business visit,' said Jarno Syrjälä, adding that this year marks the 70th anniversary of the establishment of diplomatic relations between China and Finland. He expressed hope that the exchanges between the two sides would not be limited to business, but would lead to deeper, friendlier ties.
In recent years, economic and trade exchanges between Sichuan and Finland have become increasingly close and frequent. Between January to July 2020, the import and export of goods between Sichuan and Finland was worth 283 million yuan, an increase of 68.62% from previous figures. At present, there are more than 400 Finnish enterprises in China, of which many well-known enterprises have entered Sichuan, such as Nokia, which has been operational in Sichuan for many years and has even upgraded its Chengdu R & D center to Nokia global R & D center; Chengdu Guosetianxiang Christmas paradise built by Lappset is the first Finnish paradise in Asia while the digital service and communication R & D of Tieto is the world's leading company. It has also set up a research and development center in Chengdu.
'Sichuan holds a special place for Finland. Representatives of Finnish enterprises in China have a presence here. If it were not for the pandemic, the number of Finnish entrepreneurs accompanying me would be far greater, which shows the strong interest of Finnish enterprises in cooperation with Sichuan Province,' said Jarno Syrjälä. He believes that the cooperation would be two-way. Once the pandemic situation is under control, Sichuan enterprises should visit Finland and seek opportunities for cooperation and development in Finland, he opined.
'In addition to the establishment of joint venture factories, we should seek more extensive cooperation opportunities, such as education, technological research and development and I hope that Sichuan tourists can take direct flights to Finland to boost tourism and strengthen the exchange and communication between the two nations,' Jarno Syrjälä said.
Since the beginning of this year, Sichuan Provincial Bureau of Economic Cooperation has extensively expanded overseas investment promotion channels. With the help of close cooperation with foreign trade associations and institutions in various regions and relying on the investment promotion representative offices of Sichuan Province in Germany, France, Italy, the United States and Japan, Sichuan Provincial Bureau of Economic Cooperation has built a normal docking communication bridge for overseas industrial investment promotion. Until now, Sichuan has held eight consecutive business promotions and docking activities country- and industry-wise and has introduced investment opportunities in Sichuan and related industries to more than 300 foreign trade associations, institutions and enterprises. More than 60 enterprises in Sichuan have conducted exchanges and docking with overseas enterprises and more than 20 collaboration projects are being discussed and promoted.(By Edina Liang)