Heavy rainfall has continued to lash many places in Sichuan Province, resulting in floods in Fujiang River, Tuojiang River, Qingyi River and Minjiang River basins. Faced with the calamity, Sichuan fire rescue department quickly launched the cross regional reinforcement plan for flood disaster, sparing no effort to fight the flood. More than 2,900 fire fighters built solid safety walls with their hands to protect lives and property.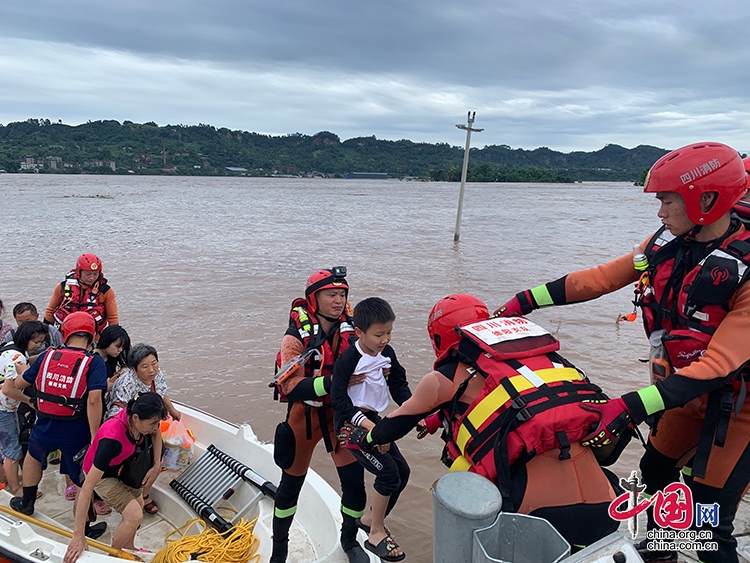 On August 18, Deyang fire rescue came to the aid of trapped elderly and children.
On the afternoon of August 16, Yuanshouzeng Village, Sanshui Town, Guanghan City, recorded floods as Qingbaijiang River swelled up, resulting in more than 16 people getting trapped and Deyang fire rescue launching relief operations. By ‪22:00‬ on the same day, Deyang fire rescue team had participated in 30 rescue operations, sending 31 vehicles, 156 fire fighters and 26 fire boats, rescuing 22 trapped people and evacuating and rehabilitating 509 people.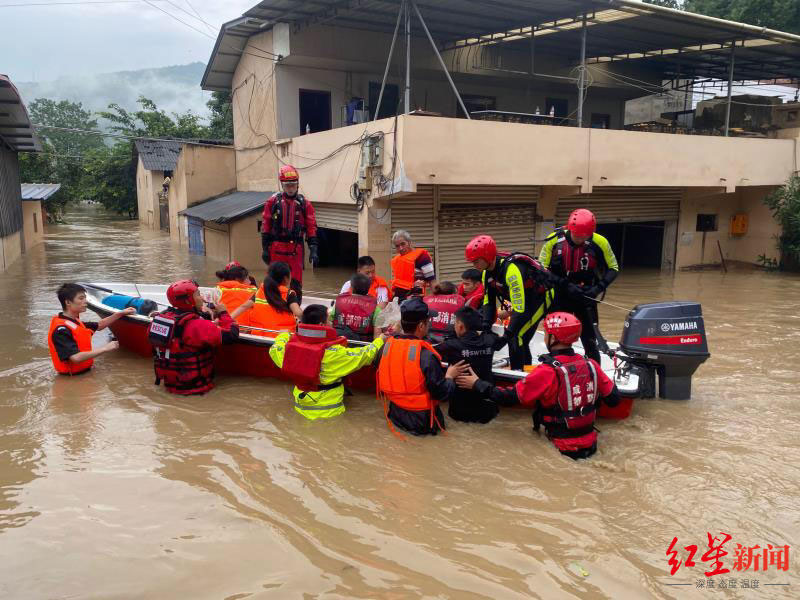 On August 17, the flood peak passed through Jintang and the fire fighters transferred those who were trapped. (Red Star News)
On August 17, there was heavy rain in Jintang County of Chengdu City. Floods occurred in many places in Jintang County, with the peak flow of more than 8,100 cubic meters per second. Sichuan fire rescue mobilized Chengdu, Suining, Ziyang and training and protection detachment units, with a total of 44 assault boats and 437 fire rescue forces. A total of 505 trapped people were rescued and 1,454 people were evacuated.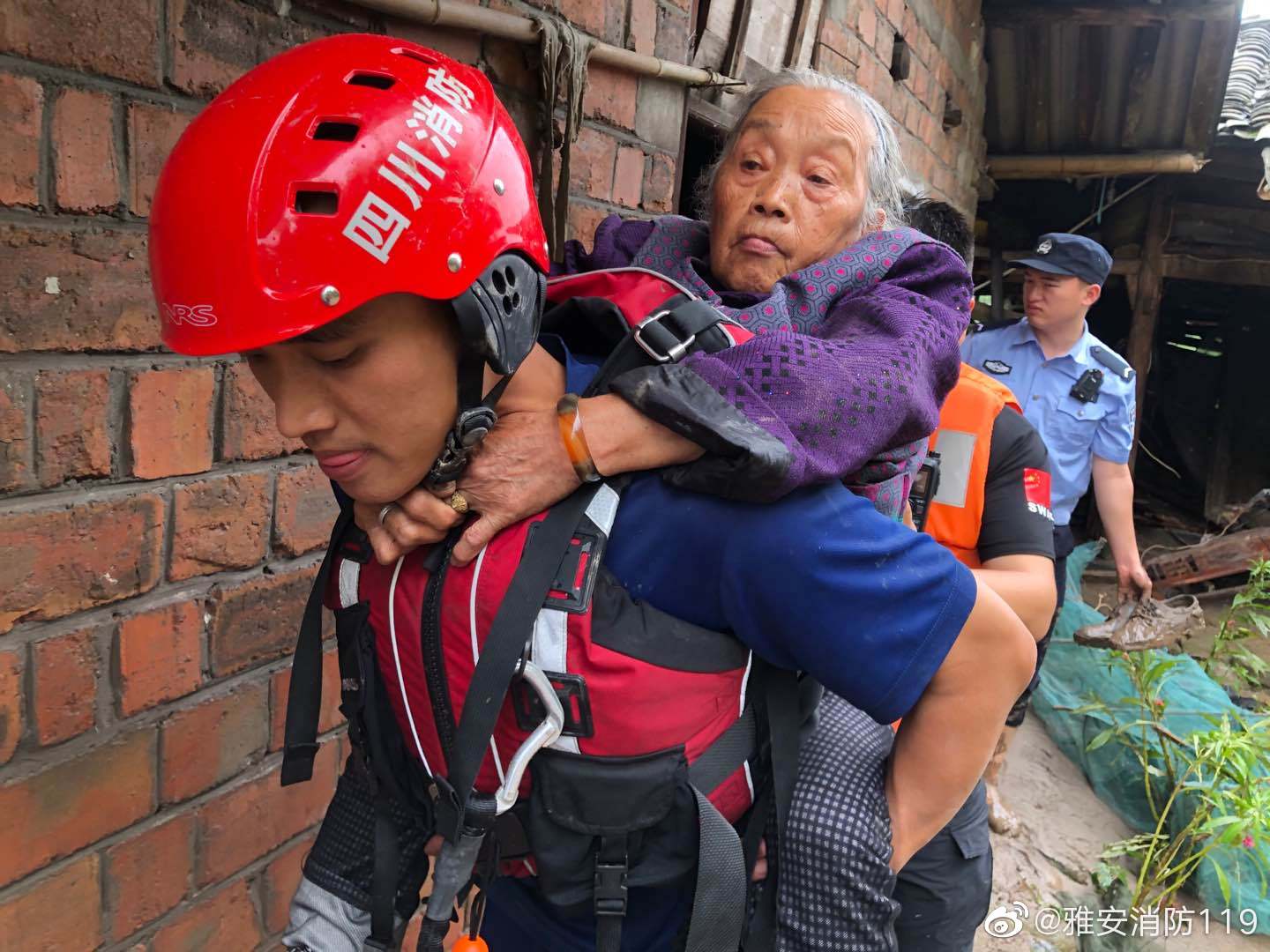 On August 18, a catastrophic flood occurred in the Ya'an urban section of Qingyi River, and Ya'an fire fighters were instrumental in transporting the trapped elderly (according to the official Weibo of Ya'an fire rescue)
In the early morning of August 18, a catastrophic flood occurred in the Ya'an urban section of Qingyi River, and the Qingyi River, Dadu River and Minjiang River basin exceeded the secured water level. Waterlogging occurred in Yucheng District of Ya'an City and a large number of people were trapped. ‪At 4:12‬, fire rescue teams found that old people were trapped on roofs, houses were seriously damaged and surrounding waters had left them marooned on "islands". Firefighters rescued 164 trapped people and evacuated 210 people.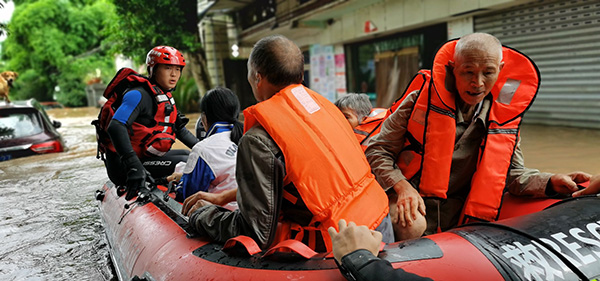 On August 18, the Fengzhou Island Connecting Bridge in Leshan City submerged and the firefighters evacuated those trapped (Sichuan Fire Department)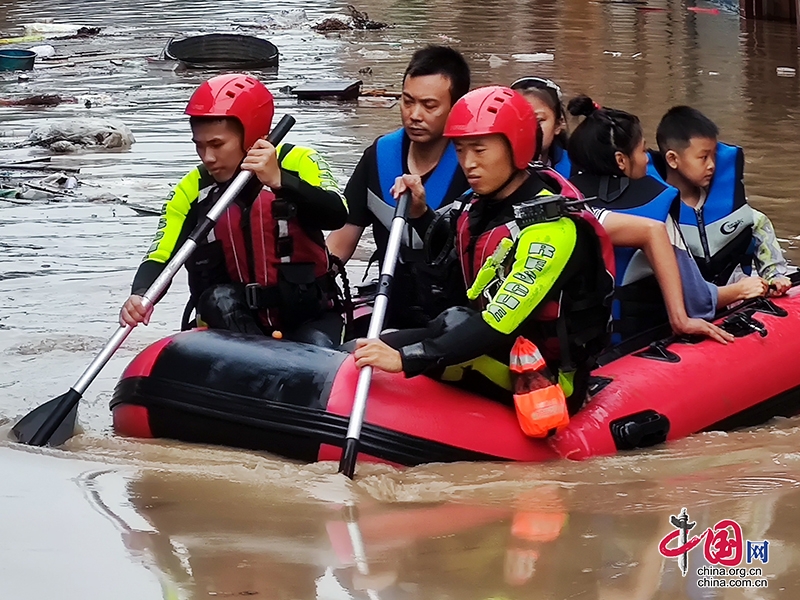 On August 18, Zigong fire rescue teams were used to transport trapped people.
Since the early morning of August 18, the Tuojiang River, which flows through Da'an district and Fushun County of Zigong City, ushered in flood peaks one after another, resulting in varying degrees of danger in many areas under the jurisdiction. Zigong fire rescue organized rescue forces to fight on the frontlines. Apart from filling sandbags to block the spread of flood, the Fire Department of Zigong City used rubber boats and assault boats to rescue people. As of 14:00 on the 18th, fire rescue forces had successfully rescued 50 trapped people, including 36 elderly people and two children.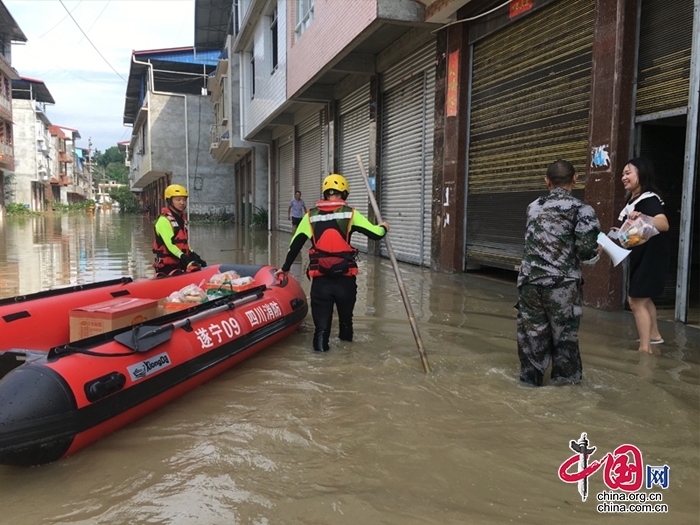 On August 17, Shehong fire rescue sent relief materials to those trapped.
As of 17:00 p.m. on the 18th, the Sichuan fire rescue team had dispatched 639 vehicles, 543 boats and 2,900 firefighters, rescuing more than 1,700 people and evacuating and transporting more than 16,000 people.(By Edina Liang)