On August 30, the '2020 Assessment Report on Business Environmental Investment Chinese Cities' was released, and Chengdu was awarded the 2020 Benchmark City for International Business Environment. In 2019, Chengdu had bagged the award for the Most Competitive City for Attracting Business and Investment and also the Most Attractive City for Investment.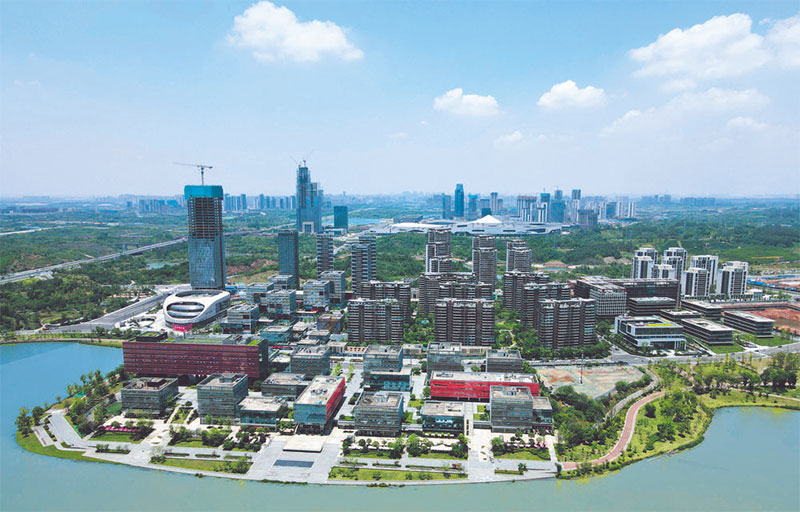 Chengdu Science City. (Photo by Li Dong, Chengdu Daily)
In Chengdu, the time taken for start-up enterprise registration has gradually been brought down to 0.5 working days, the approval time for general social investment construction projects is within 80 working days and the approval time for small-scale social investment simple and low-risk projects is not more than 20 working days. 'Chengdu will strive to set new standards for convenient investment and trade, convenient administrative licensing, easy access to applications, accurate and easy to understand policies and perfect legal protection,' said an official of the Chengdu international business environment work leading group.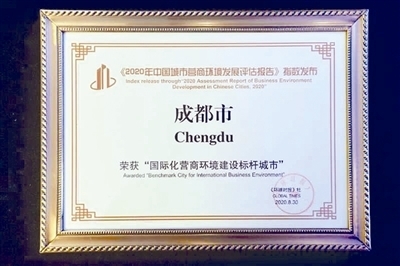 Chengdu wins 2020 Benchmark City for International Business Environment
'For most people and enterprises, the thought of Chengdu might generate images of giant pandas, delicious food and a comfortable life, but for me, the most impressive thing about Chengdu is its openness and inclusiveness,' Liu Yuanda, director of the marketing center of the Global Times, said. He added, 'The feedback from the German-funded enterprises of Volkswagen and Bosch to the German media is that Chengdu's investment promotion and business environment are well recognized by foreign investors and that their foreign employees work happily and live comfortably in Chengdu.'
According to a report on the prosperity of 'the employment market of the new graduates in 2019', Chengdu ranks fourth among the cities where college students expect to find jobs. By the end of July this year, Chengdu's 'new talent policy' has attracted 381,000 talented graduates. 'Start a business and live like people in Chengdu do' has become a driving motto for many job-seekers. In the GaWc2020 world city list, Chengdu ranks 9th in the world's second tier cities (beta +) list, up seven places from 2018; in the overall world city ranking, Chengdu's ranking has jumped to the 59th in the world.(By Edina Liang)