At 9:43 on June 23, China successfully launched the 55th navigation satellite of BeiDou Navigation Satellite System (BDS), which is also the last global networking satellite of BeiDou-3, in Xichang Satellite Launch Center with Long March 3B rocket. The deployment of BDS constellation has been completed half a year before the original deadline.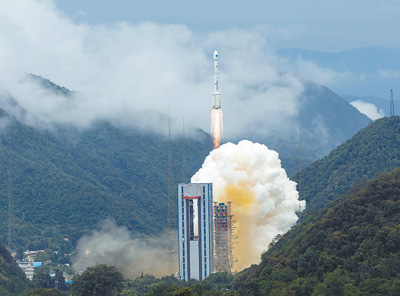 On June 23, the last networking satellite of BDS was successfully launched. (Photo/Jiang Hongjing, Xinhua News Agency)
From the observation platform of Xichang Satellite Launch Base, Li Lanjuan, academician at Chinese Academy of Engineering, Sichuan Provincial anti-epidemic heroes and youth student representatives witnessed this exciting moment. Liu Xian, a volunteer representative of Sichuan's assistance to Wuhan, said that she felt very fortunate to witness this historic moment.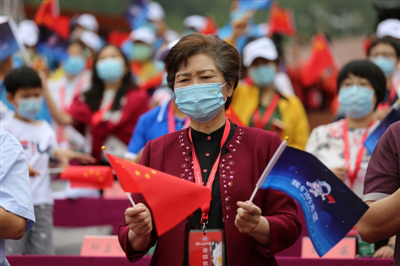 Li Lanjuan, academician at Chinese Academy of Engineering at the scene (Photo/Chengdu Business Daily)
Xichang Satellite Launch Center, established in 1970, has undertaken the launch tasks of all BDS satellites, earning the moniker of "BDS port". Xichang launch site is one of the ten largest space launch sites in the world and has complex climatic conditions. The center successfully sent the 9th Beidou Navigation Satellite into orbit in a short period of 10 minutes during a thunderstorm.
China's BDS also belongs to the world. The GPS system of the United States, GLONASS of Russia and Galileo of the European Union have been deployed with single orbit satellites one after another, but BDS is unique. It uses three kinds of orbit satellites to form a hybrid navigation constellation. Yang Yuanxi, deputy chief designer of BDS, said that BDS's basic products have been exported to more than 120 countries and regions since 2019. He said, "Our Chinese enterprises have brought BDS out of the country, which has been widely used in the Belt and Road area. The national geodetic control networks of Pakistan and Algeria use BDS. The service performance provided by BDS to these countries is at par with that of other systems, so it has been well evaluated in these countries."(By Edina Liang)